Best Gay Bar
2012 Best of New York issue | New York Magazine
An establishment that (like straight dancing-bartender predecessors such as Hogs & Heifers) pulls off the trick of being both rousingly festive and laid-back at the same time. The venue commits to its Wild West saloon theme with wood- plank floors, steer motif, Bonnie Raitt, on the jukebox, and Westerns on TV. But it isn't above pleasing its clientele with flashing rainbow lights and bar-dancing cowboy bartenders. The beers on tap are a tad expensive, but that's more than made up for by two nightly happy hours: the usual four-to-eight, plus an Absolut-ly Stoli Happy Hour (two-for-one vodka drinks) from midnight to one.
793 9th Avenue between 52nd/53rd Streets
New York, NY 10019
1-212-713-0481
Closest Subway:
Transit: 50 St (0.2 mi SE)


map it
HOURS OF BIZ
Monday–Friday
3pm – 4am
Saturday & Sunday
Noon – 4am
CONTACT US
info@flamingsaddles.com
chris@flamingsaddles.com
jhicks@flamingsaddles.com
jacqui@flamingsaddles.com
---

Wednesday, April 22nd, 2015 at 11:15am
Whiskey Wednesday Ya'll! The Boys are Servin You Up $7@JAMESONPARTY A.... http://t.co/RlWlH9OMly http://t.co/1MEYE2rWKI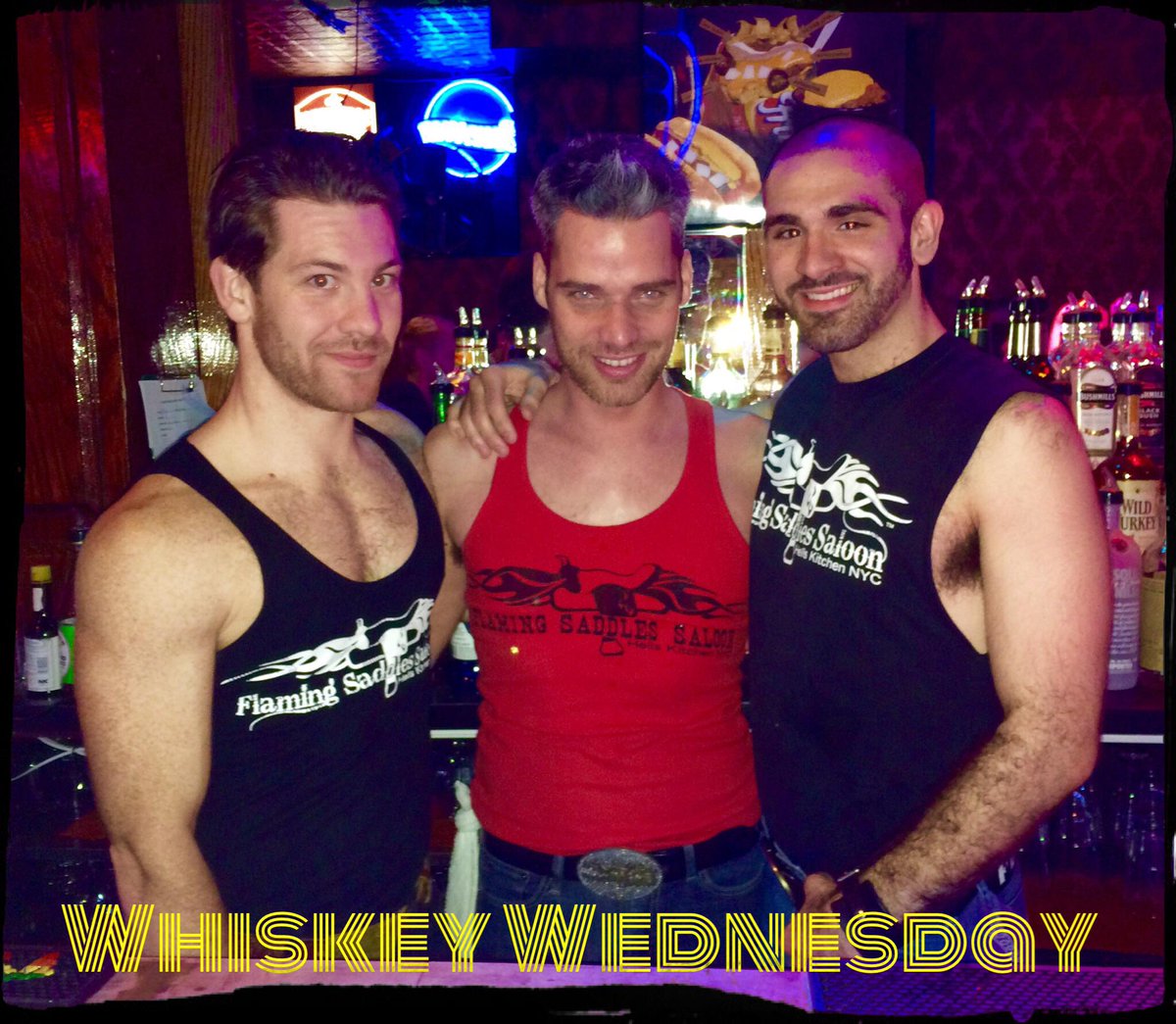 STAY IN THE LOOP
Flaming Saddles Saloon
Friday, April 24th, 2015 at 10:31am
11 1 View on Facebook
Flaming Saddles Saloon uploaded a new video.
Wednesday, April 22nd, 2015 at 4:43pm
12 2 View on Facebook